August 2017
| Mon | Tue | Wed | Thu | Fri | Sat | Sun |
| --- | --- | --- | --- | --- | --- | --- |
| | 1 | 2 | 3 | 4 | 5 | 6 |
| 7 | 8 | 9 | 10 | 11 | 12 | 13 |
| 14 | 15 | 16 | 17 | 18 | 19 | 20 |
| 21 | 22 | 23 | 24 | 25 | 26 | 27 |
| 28 | 29 | 30 | 31 | | | |
Calendar

Hello Teams,
The focus of this newsletter is the season kickoff and the state championship. I included a few important announcements from previous emails for emphasis. Please share this email with your team.
Topics in this email include:
1. Season Kickoff
2. FTC Florida State Championship
3. Rockwell Automation Conference Repeat Announcement]
4. Team Registration is open [Repeat Announcement]
5. New Judging Format for Florida Tournaments [Repeat Announcement]
------------
1. Season Kickoff
The 2010 Season Kickoff will be held on Saturday, September 11, 2010 at the Orange County UF/IFAS Extension Education Center Auditorium. This event is sponsored by FTC 1902, Exploding Bacon, and is free and open to the public. Registration is not required, but is appreciated so that we can assure we have sufficient seating and refreshments. Each team should submit one entry to the online SurveyMonkey form found here: http://www.surveymonkey.com/s/R3D3Q9C
If you attend the kickoff, please ask your team to keep the game confidential until 5pm. That means no pictures posted, no tweets or FB updates with game information, etc.
The address for the kickoff site is:
6021 South Conway Road
Orlando, FL 32812
Our National FTC sponsor, PTC, is offering a 90-minute Getting Started workshop providing an overview of their software that is available to teams. The PTC workshop starts at noon. After a short break, the game reveal will start at 2:00 p.m. A complete playing field for the new game will be available for teams to explore and we will hold a game Q&A starting at approximately 3:00 p.m.
Lunch is not provided at kickoff. Snacks and refreshments will be provided between the PTC software workshop and the game reveal.
The Florida kickoff web page is found here: http://www.flfirst.org/Florida_First_Tech_Challenge/2010_FTC_Season_Kickoff.html A flyer will be sent in a separate email in the event email servers reject the moderately large pdf file.
FIRST will post information about the new game on the usfirst.org web site at 5:00 p.m. eastern time for teams that are not able to attend a kickoff event.
------------
2. FTC Florida State Championship
I am happy to announce that we are increasing the capacity of the state championship from 25 to 32 teams. This will enable more than half of the teams in the state to attend the championship tournament if we reach our goal of 60 teams in Florida. As in previous years, the state championship is an invitational tournament. The top performing teams at our eight qualifying tournaments receive invitations to the state championship.
The University of South Florida hosted the state championship the past three seasons and their College of Engineering has been a terrific sponsor for our program. Unfortunately, a 32-team tournament exceeds the capacity of their Recreation Center. The Sun Dome adjacent to the Recreation Center has sufficient capacity, however, the Sun Dome is not able to commit to a date until after the USF basketball schedule is announced. The scheduling uncertainty combined with the additional facility costs exceeding $10,000, eliminated the Sun Dome from consideration.
Ruling out USF as a host site, we visited and received bid packages from several venues along the I-4 corridor from Tampa to Daytona Beach. I am excited to announce that we found a fantastic partner and host for the 2010/11 State Championship. On February 12, 2011, the 32 top FTC teams in Florida will go head-to head in the ICI Center on the Campus of Embry-Riddle Aeronautical University in Daytona Beach!
------------
3. Rockwell Automation Conference [Repeat Announcement]
FTC teams are invited to represent FIRST at the Rockwell Automation Fair 2010 held at the Orange County Convention Center in Orlando on November 3 & 4, 2010. There are two shifts each day, morning and afternoon, for two teams at each time slot. Teams can participate in one shift on a single day, all four shifts over two days, or anything in between. Due to space limitations, teams are asked to bring 2 (maybe 3) students and an adult chaperone. The web site for the event is found here: www.rockwellautomation.com/events/automationfair/ . This is all the information that is available at this time. Send an email to Michael.Coleman@flfirst.org if your team is interested in exhibiting at this event.
------------
4. Team Registration is open [Repeat Announcement]
Team registration for the 2010 season is open and available here: www.usfirst.org/roboticsprograms/ftc/content.aspx?id=750
Veteran teams need to purchase either the Software Renewal Kit ($69) or one of the Competition Kits ($749 or $549) to get licenses for the required software (ROBOTC and LabVIEW). Teams should also consider purchasing the FTC Resource kit ($199). I understand that this kit is a terrific way to purchase discounted TETRIX parts. Teams receive their free Samantha WiFi communications unit with either the Software Renewal Kit or the Competition Kit.
------------
5. New Judging Format for Florida Tournaments [Repeat Announcement]
The judging process and tournament rules are described each year in the FTC Game Manual. The standard judging process includes: a) a private team interview with 2-judges; b) review of the engineering notebook by judges; c) observation of teams during the tournament; and d) informal, discussions between teams and judges in the pit area. During the 2010 season, the Florida region is piloting a new judging process and will run qualification tournaments and the state championship as specified in the game manual, with one important rule change. The formal judge interview will be replaced with a team created video that judges will watch online prior to tournament day.
Advantages to the pilot judging program include:
a) Under the standard judging process, an individual judge gets first-hand information from only 4 to 6 teams. The online team videos will allow individual judges to learn about ALL of the teams.
b) Judges will have approximately two additional hours on tournament day to evaluate teams through observation and Q&A with students.
c) A typical tournament squeezes a lot of activity into the few hours between team check-in and opening ceremonies. Eliminating the formal judge interview will allow teams to concentrate on robot inspection, practice and scouting.
Detailed rules for the team video will be provided to Florida teams in September via email and the www.flfirst.org web site. Direct all questions about the judging pilot program to Michael.Coleman@flfirst.org.
In general, the guidelines for the video will be as follows:
a) The video will have a maximum time limit that will be in the range of 3 to 4 minutes.
b) Teams will post their video to YouTube and email the link to Michael.Coleman@flfirst.org, 10 or more days prior to tournament day.
c) Teams can choose to make their YouTube videos either public or unlisted. Public videos can be discovered by YouTube searches or teams may choose to publish the link. Teams choosing to keep their video unlisted [private] prevent the general public from finding and viewing it. The only way to find [view] an unlisted video is to know the link address. Instructions for making a video "unlisted" are found here: www.google.com/support/youtube/bin/answer.py?hl=en&answer=181547
d) Teams may update their video for each tournament.
e) We will disclose links to team videos only to judges during the competition season. At the end of the competition season, links to team videos will be made public so that teams can learn what is expected of winning teams.
Teams should plan for their judging video early in the season so that the team creates sufficient video and photo content.
Thats all for now. I am looking forward to seeing teams at the kickoff party!
As always, feel to send questions to Michael.Coleman@flfirst.org.
Michael Coleman
FTC Affiliate Partner for Florida
Florida FTC Online:
Web Site: www.flfirst.org
Forum: flftc.forumotion.com
FTC Twitter: twitter.com/FLFirst
Facebook: www.facebook.com/group.php?gid=168549705513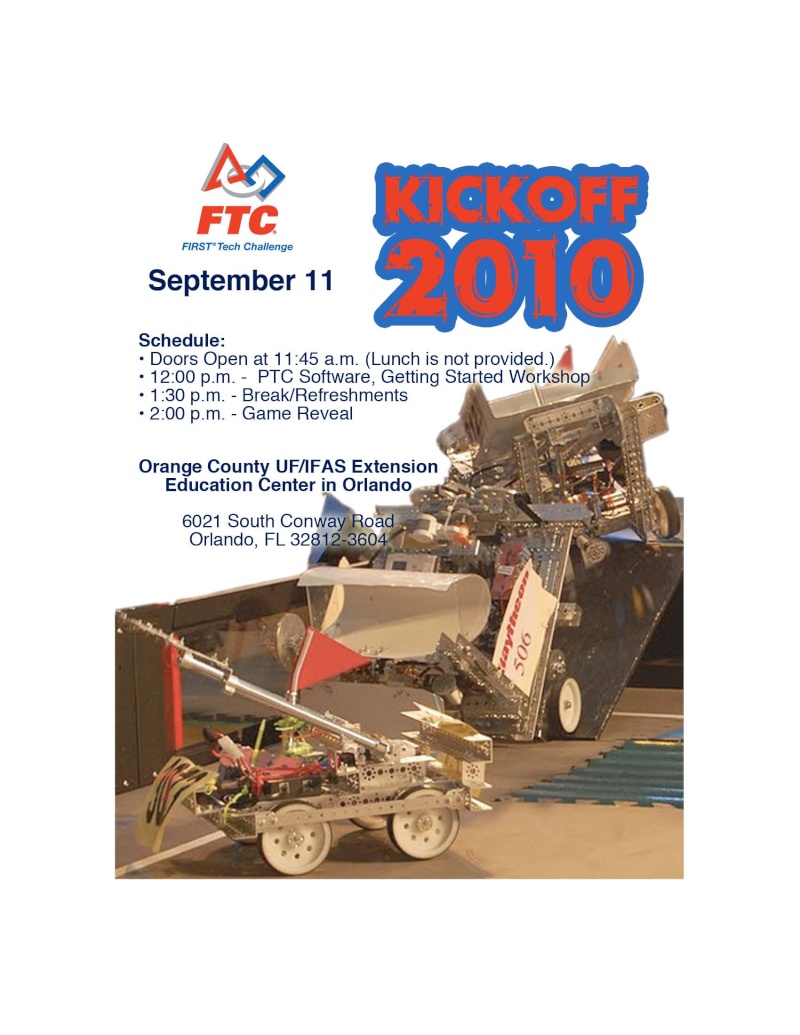 Similar topics
---
Permissions in this forum:
You
cannot
reply to topics in this forum