August 2017
| Mon | Tue | Wed | Thu | Fri | Sat | Sun |
| --- | --- | --- | --- | --- | --- | --- |
| | 1 | 2 | 3 | 4 | 5 | 6 |
| 7 | 8 | 9 | 10 | 11 | 12 | 13 |
| 14 | 15 | 16 | 17 | 18 | 19 | 20 |
| 21 | 22 | 23 | 24 | 25 | 26 | 27 |
| 28 | 29 | 30 | 31 | | | |
Calendar

Hello Teams,
Please share this and all other team email blasts with your team. Unless you have made other arrangements with me, the only people on your team that receive this email are the main and alternate team contacts that are listed in the FIRST Team Information Management System that was used to register your team with FIRST. All of the Florida FTC team email blasts are placed in an email archive on the www.flfirst.org web site.
Topics covered in this email include:
1. Build-it Day at Middleton High School in Tampa [Repeat Announcement]
2. Qualification Tournament Registration
3. Team Created Video
Attachments: Award Video Tips, Team Video Advice from Florida's Judge Advisor
------------
1. Build-it Day at Middleton High School in Tampa [Repeat Announcement]
Middleton High School Robotics Club will host the 3rd annual Tampa Build-It Day on October 22, 2011. A full Bowled Over! field will be setup in the cafeteria with plenty of tables and workspace for everyone to work on their robots. The Build-It Day is an opportunity for FTC teams to have access to a practice field, exchange design ideas, help rookie teams with building their first robot, and attend workshops. Teams are encouraged to bring their robots or even their unopened kit-of-parts to the Build-it Day, however, teams are welcome to only attend the workshops.
RSVP to Hans Wolf at hans.wolf@verizon.net
Schedule:
9:00 a.m. - 3:00 p.m. - Work on robots
10:00 a.m. - Introduction to ROBOTC
11:00 a.m. - Using Sensors in ROBOTC
1:00 p.m. - Robot Design with PTC Creo
2:00 p.m. - Anderson PowerPole Connections
Location:
Middleton High School
4801 N. 22nd Street
Tampa, FL
------------
2. Qualification Tournament Registration
Competition slots are available at the following two tournaments:
November 12, 2011 - Middleton High School in Tampa
November 19, 2011 - Milwee Middle School in Longwood (near Orlando), hosted by the Lyman High School FTC teams.
All teams are eligible to register for these tournaments. Signup online, the slots will be assigned on a first come, first served basis. http://www.flfirst.org/Florida_First_Tech_Challenge/Qualifying_Tournament_Registration.php
------------
3. Team Created Video
Teams attending Florida FTC Qualifying Tournaments and the State Championship are required to submit a team video for judges to view prior to competition day. Team videos are NOT optional. The content of the video will have a major impact on the judge's evaluation of the team.
There will be no scheduled judge interview at competitions; Judges will conduct informal team interviews in the pit area. Therefore, it is important for teams to have at least one student and their robot in the pit area to talk with judges. Judges will conduct pit interviews starting at around 8:00 a.m. and ending around 2:00 p.m. The majority of the judge visits will occur in the morning and it is unlikely that there will be judge visits during the lunch break. Teams are not expected to have students in their pit area while the team's robot is participating in a match.
Helpful Resources:
- Read the attached document containing team video advice from Florida Championship's Judge Advisor
- Read the attached Award Video Tips document: http://www.flfirst.org/Florida_First_Tech_Challenge/Helpful_Links_files/Award-Video-Tips-rev3.pdf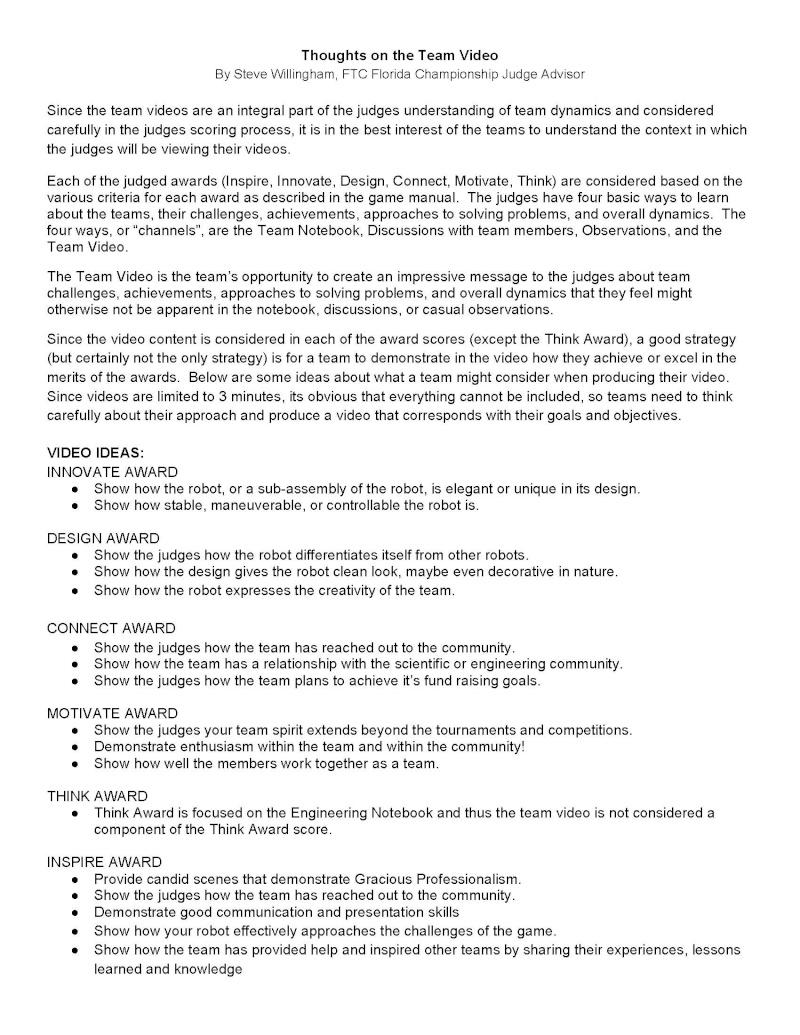 Video Submittal:
- Video submission instructions will be provided in a future email blast.
- The submission due date will be approximately 10-days prior to tournament day.
- The system we used last season for submitting videos took a lot of my time to assemble and distribute to judges. For this season, I am investigating several options that will reduce my workload, move the video submission deadline closer to tournament day, and allow teams to update their video at will. It is very likely that the team videos will be viewable by anyone with the link to the video submission system. Keep this in mind when creating your video. Elements of your robot design that are "top secret" shouldn't be included in the video. There will be ample opportunities on tournament day for teams to show-off their "top secret" designs to the judges.
Video Format:
- Length: Not more than 3-minutes long and no shorter than 1-minute long.
- Aspect: 16:9 or 4:3 are acceptable
- Include a clean mono or stereo audio track free of copyright restrictions, including music.
- Include team name and FTC team number in the video's Opening Title Screen
Video may consist of:
- Videotape footage
- Voice over/music over still photographs
- Animated presentation
- PowerPoint converted to movie file format
Sound:
- Should be clear of pops and hisses
Copyright:
- If using copyrighted music must have written permission.
- If using Creative Commons Music (CCM) on line, the music must be used in accordance with the appropriate license and properly attributed.
- Music may not contain obscene or suggestive language.
Royalty Free Music Resources:
- Incompetech: http://incompetech.com/m/c/royalty-free/
- Open Source Music: http://www.opensourcemusic.com/
- More here: https://creativecommons.org/legalmusicforvideos with information about how to use and identify CC music.
- Teams can also make their own music online with resources like Soundation: http://www.soundation.com/
Content Guidelines:
- Please do not identify non-team minors by name or specific location. Use only first names, no locations. Important Note: If you include full names or if you include any name and the location of a minor (e.g., a student at Kennedy High School in Melbourne, FL), you will need to supply releases from the minor's parents. Providing the FIRST Consent and Release Form to Michael.Coleman@flfirst.org satisfies this requirement.
Videos with the following qualities are the most helpful to judges:
- Contains information about the robot, prototyping, design methodology, game strategy, etc.
- Highlights how the team meets the requirements for the award(s) described in the Bowled Over! game manual.
- Showed what is special about the team.
- Entertaining videos are appreciated.
- Very brief team member introductions, or no dedicated introduction segment.
- Video footage of robots performing specific tasks should be accompanied by voice over descriptions of what the robot is doing and why it is important to the team's game strategy.
End Credits:
- Include end credits to satisfy copyright obligations.
- Remember to list and thank your sponsors.
Michael Coleman
FTC Affiliate Partner for Florida
---
Permissions in this forum:
You
cannot
reply to topics in this forum