August 2017
| Mon | Tue | Wed | Thu | Fri | Sat | Sun |
| --- | --- | --- | --- | --- | --- | --- |
| | 1 | 2 | 3 | 4 | 5 | 6 |
| 7 | 8 | 9 | 10 | 11 | 12 | 13 |
| 14 | 15 | 16 | 17 | 18 | 19 | 20 |
| 21 | 22 | 23 | 24 | 25 | 26 | 27 |
| 28 | 29 | 30 | 31 | | | |
Calendar

Hello Teams,
Please share this and all other team email blasts with your team. Unless you have made other arrangements with me, the only people on your team that receive this email are the main and alternate team contacts that are listed in the FIRST Team Information Management System that was used to register your team with FIRST. All of the Florida FTC team email blasts are placed in an email archive on the www.flfirst.org web site.
Topics covered in this email include:
1. Qualification Tournament Registration
2. Jr. FLL Expo in Tampa
3. Discounted Hotel Rooms for the Florida Championship
Attachments: Daytona Beach Holiday Inn LPGA Flyer
------------
1. Qualification Tournament Registration
Qualification Tournament registration opens this Wednesday evening for teams that have registered for no more than one tournament and haven't yet qualified to attend the Florida Championship. Tournament competition slots are available at the following events:
1/21/2012 - Seminole High School Tech-Tacular Tournament at Seminole High School in Seminole, FL
1/28/2012 - Siberian Showdown Tournament at Hagerty High School in Oviedo, FL
2/4/2012 - RoboBattle hosted by USF Polytechnic in Lakeland, FL
Teams may register for these events starting at approximately 8:00 p.m. Eastern time on Wednesday, December 14, 2011. The competition slots will be assigned first come, first served. The tournament registration page is located here: http://www.flfirst.org/Florida_First_Tech_Challenge/Qualifying_Tournament_Registration.php
Any team may register for competition slots that are still available at 8:00 p.m. Eastern time on Thursday, December 15, 2011.
------------
2. Jr. FLL Expo in Tampa
A Jr. FLL Expo will be at the Museum of Science & Industry in Tampa, FL on Sunday, January 8, 2012 from 1:30 p.m. to 4:30 p.m. They would like to have one or two FTC teams show off their robots at this event. Please contact Bill Shaw at toppsoft@gmail.com if your team is interested in participating in the Jr. FLL Expo.
------------
3. Discounted Hotel Rooms for the Florida Championship
The newest hotel in Daytona Beach, Holiday Inn LPGA, is offering an $89 plus tax per night group rate for FTC teams and volunteers attending the Florida Championship. Every room has a mini-fridge, microwave and free WiFi. The hotel is located off I-95 at exit 265, 10-minutes from Embry-Riddle Aeronautical University. Ask for the "FIRST Tech Challenge" preferred rate when making reservations. See the attached flyer for additional details. The hotel's web site address is: www.holidayinn.com/hotels/us/en/daytona-beach/dabhi/hoteldetail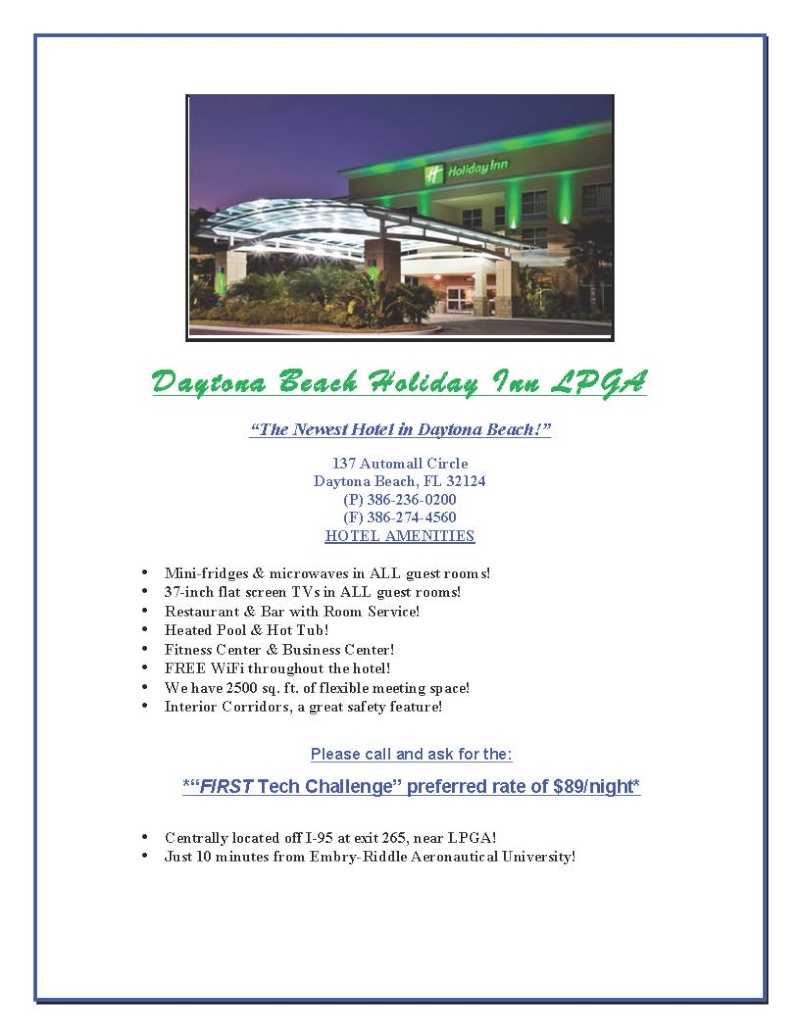 ---
Permissions in this forum:
You
cannot
reply to topics in this forum